Jonas Gassmann, "Museum #9066," Fall 2013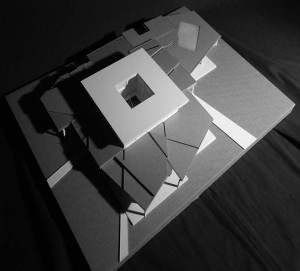 The design challenge that my museum explores is the idea of order vs. chaos and how they can coexist. This concept came about during our research period when I listened to personal stories from people who had been in the camp. What really struck me about their experience is that although they had so much tension, fear, and disorder placed on them by the situation of having to give up everything and move to a strange, hostile, environment, they managed to create a sense of home and stability within the camp. I express this presence of both order and disorder in the lives of the internees within my museum through the plan layout by having weirdly angled walls clash with the strict structural grid of columns, as well as the ordered central space and garden.
The museum also creates the idea of a journey, which explores order versus chaos, first moving through the low, dark, chaotic spaces that describe the history of the camp, and ending up in the central square, where the artwork produced by the internees is displayed.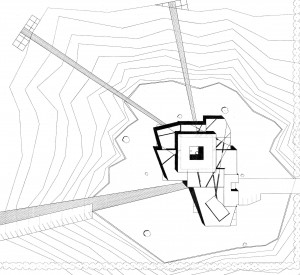 This space opens up both vertically and horizontally into the meditation garden to allow a sense of openness and light. In this space the chaotic walls disappear leaving only the ordered structural elements expressed, creating a strong sense of centrality and order. This space is meant to celebrate the art tradition that the internees created in the camps as a metaphor for how they managed to create order in a chaotic environment.