Li Li Liu, "Museum #9066," Fall 2013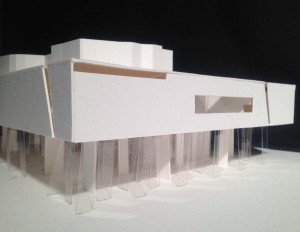 My design idea is based on the words, such as isolated and drama to express the people's life in the camp by architecture language.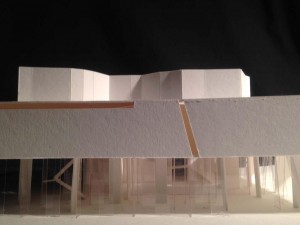 Before we started the design of Museum #9066, we visited the site where the museum was built and went to Rohwer Relocation Center. When I visited Rohwer Relocation Center, I saw some art works Japanese people made in the camps, some words printed on pieces of semitransparent cloth, and some pictures. I cannot help myself crying. Imaging their life in the camp, imaging how they miss their family numbers in Japan. Was there hope in their life? What did look like their life? At that moment, a few words, isolated, desperate, lost, and no hope, occurred to me. Their life seems like a drama dramatically.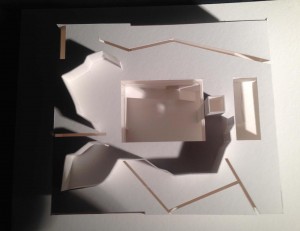 The site also gave me the feeling: isolated. There were lots of trees around the site, which made the Japanese people being alienated from the real society. It seems lights cannot penetrate the dense woods. People who lived outside the woods cannot come to their life; People who lived inside the woods cannot hear any outer information. They were like living at an island.
It is not hard to get my design idea. On the ground floor, a lot of glass panels put in the water and some solid panel support the museum loads. The purpose is to show the people's isolated life like at an island. Use of glass panel's idea is from the printed semitransparent cloth. When visitors come to the building, they can feel the building like floating in the air. I want people to feel like they lost their way in a wood. Further more, water and glass panel can reflect light, which makes the building beautiful. There is a path through the panels. The panels are close to the path inscribed some words Japanese people wrote so that visitors can recall or feel their experiences. The second floor, inside layout and windows keep consistence, which demonstrates their lose life. Meanwhile, visitors can experience the drama that lights bring to them. People can go to roof top by outside space and they can see Rohwer Relocation Center Memorial Cemetery.