Zepa Tshendup, "Museum #9066," Fall 2013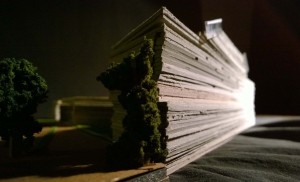 Museum # 9066
Precedents: Jewish Museum, Berlin, Daniel Libeskind.
: Spa/ Baths, Switzerland, Peter Zumthor.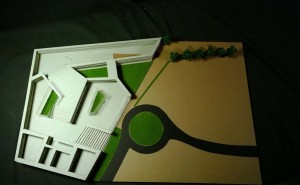 The project was to design a Memorial Museum remembering the World War II Japanese-American internment camp located in Rowher, Arkansas. The location is at the site of the original camp. The permanent collection would include a timeline explaining the history of the camps, artifacts from the camps, and the artwork created during interment. My concept of the project was to create a physically demanding design that would emphasize on the hardships that the internees had to go through.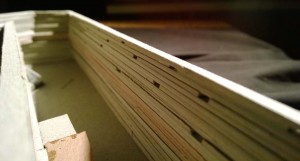 The initial idea was to have a circulation that would give the experiences that is the stages of hardship the internees had to go through, to give the users an idea of such situation. The first design was a maze like circulation, which included dead ends. But the design wouldn't work at a human scale as it diminished the richness of the other spaces in the design, and came out as the only experience a visitor would remember.
The expression of the hardship became the stairs that one will find over and inside the museum. From the bird view, the stairs stands out and the rest of the building will blend in with the site where they grow soya beans. The stairs are also one of the main sources of light inside the building.
The simplification of the entire experiences into stages:

The separation didn't really give a flow that it should have rather it seemed too much. To achieve rich experiences, having different levels that switched often to always have a surprise was a way. And going underground was another. Going underground suggested that the design's very much a part of the site. But the location was a total bare and empty site. Putting the entire building underground meant hiding when the design's supposed to demand its existence. Because the underground feeling was necessary, the design's created like a one piece so the openings are punched and the spaces are carved inside.
Since, the reason behind the building of the Museum wasn't something to be celebrated but remembered and remind that such should not be repeated, the design had to be very monumental looking that would act like a strong statement on the site to mark the event in a profound manner. The idea was to have a serious architecture design and not a happy architecture.
With all the process of iterations, the concept form of the building ended up looking like a thunder-lightning shape that has a sharp connection with the cemetery. And the building stood out monumentally and blended in with the earth at the same time.
Stair Mechanism:
➢ Light Source and the concept hardship