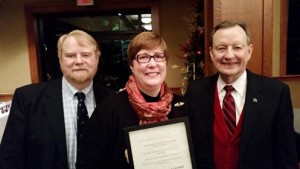 Restoration work at the Rohwer Japanese American Relocation Center Cemetery was recognized on January 9, 2015 at the annual Arkansas Preservation Awards sponsored by the Historic Preservation Alliance of Arkansas. The event recognizes important work being done throughout Arkansas to preserve and protect places of historical or cultural importance.
The cemetery, the last physical remnant of the World War II camp, received Honorable Mention for Excellence in Preservation Through Restoration. The two most iconic monuments at the cemetery, the Monument to the Rohwer Dead and the Monument to the 100th Battalion, were restored through a National Park Service Japanese American Confinement Sites grant to the University of Arkansas at Little Rock. Dr. Johanna Miller Lewis, project director at UALR, accepted the award on behalf of the project team, including WER Architects/Planners and Kinco Constructors.
Read details about this and other awards recognizing Arkansans' work to preserve distinctive historic places in this Event Program.
The Historic Preservation Alliance of Arkansas is the only statewide non-profit organization dedicated to preserving Arkansas's architectural and cultural heritage. For more information about the Alliance, or photos of the projects contact Vanessa at 501-372-4757, vmckuin@preservearkansas.org, or visit PreserveArkansas.org.